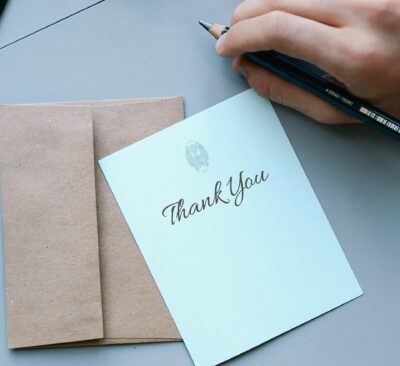 So you've been given a lovely birthday present. Now what? The polite thing to do is to write a thank you letter. A good thank you letter will make the recipient feel appreciated and seen. That means no generic sentences or pre-written cards you picked up from CVS. Instead, be sure to write a custom thank you note following the instructions below.
How To Write a Thank You Note
Pick the appropriate greeting.
Depending on your audience, different salutations might be appropriate. "Hi, Grandma!" might be all well and good. But if you're writing a thank you note for your boss or an interviewer from a job, it'd be better to start off with "Dear." In any case, don't forget to add the greeting to your note. It really helps to structure the note and helps start off your message in a personalized way.
Be specific about why you're writing!
A common mistake people make when writing thank you notes is to be vague. To ensure your note feels thought-out and personal, make sure to specify what you are thanking someone for in your letter. For instance, instead of just saying, "Thank you for your great gift!" try, "Thank you for the lovely set of frying pans!" That way, the recipient knows you are truly grateful for what you have received, and your letter feels more sincere.
Mention specific ways you plan to use/enjoy their gift.
To go the extra mile, mention what you plan to use your gift for. For instance, in the above example of frying pans, you could say something like, "You know I have been wanting to get into cooking and I am excited to use these cupcake tins to try some new recipes!" Or, if you were gifted a new book, you could say something like, "I have been wanting to read more short story collections for a while, and can't wait to crack this book open on my vacation next month in Mexico!" Again, these specific types of thank yous help assure recipients that you truly enjoyed your gift. Additionally, it can be gratifying for them to hear about how you plan to use your present, ensuring that they feel their money was well-spent.
Talk about your relationship outside of the gift.
While the primary focus of a thank you note should be the gift you received, you should also mention other things. Once you have appropriately thanked the recipient for their gift, add a couple of lines about when you plan to see them next or ask about their health.
Make sure that you finish off the letter by saying thank you again. Though this might seem like overkill, it will only serve to emphasize your sincerity and make the recipient of your note feel even more appreciated.
Example of a Good Thank You Note
Dear Aunt Marissa,
Thank you so much for your kind gift of a new succulent plant for my birthday! You know I'm obsessed with filling my house with greenery, and I already know just which bright window I'm going to put this guy in.
I really enjoyed seeing you at my birthday party this year – it was so good to have the family all in one place. Hopefully, I'll get to see you again at Grandma Stevenson's Fourth of July celebration!
Thank you again for the awesome gift. I'll be sure to send you photos as he grows. I love you and look forward to seeing you again soon!
Love,
Sammie
Other Things to Pay Attention To
Now that you know what to put into a thank you note, what other things do you need to pay attention to? First, be sure you're writing and sending your thank you note shortly after receiving a gift. It can be understandable if you aren't able to get your letter out right away – life happens! – but still, it's best to be speedy.
Additionally, handwrite your thank you note if possible. Though this can seem like a lot of extra effort, it adds a personal touch to the note and shows the recipient you care. However, in some situations, a digitized thank you note would be appropriate, such as a follow-up email after a job interview. Since thank you notes will take some time to make it through the mail, and you want to express your gratitude to interviewers immediately, this is a situation where an email would be considered appropriate and personable enough.